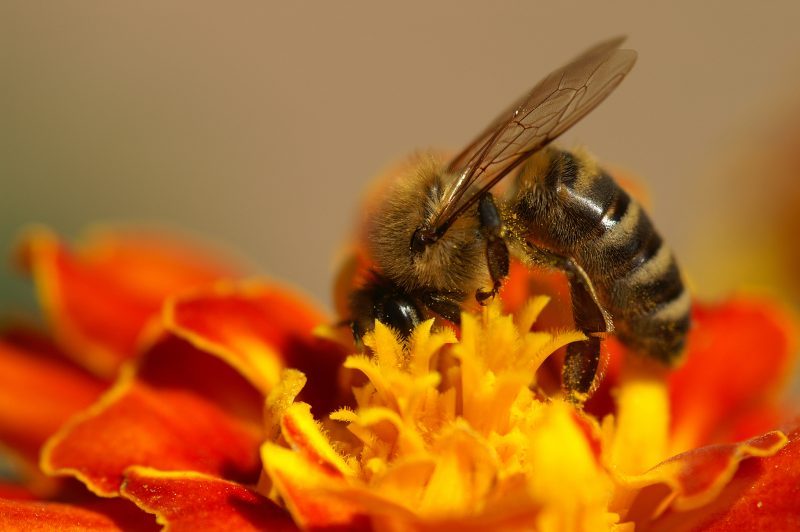 You have a bee to thank for one in every three bites of food you eat!!
Yesterday was a particularly warm Spring day here at the Storage Inn in Egg Harbor Township New Jersey. One of our self storage customers, Victor, stopped in to buy some boxes, when we noticed another tiny visitor in the office  – a bee !  Mr. Bee bounced off the glass of the front windows trying to make his escape back to the outdoors. My first inclination was to grab the office fly swatter, but Victor stopped me… "You can't kill him! Don't you know that bees are now an endangered species?" Victor opened the front door and was able to get Mr. Bee to freedom, eliminating the chance of storage rental customers getting stung. Victor followed Mr Bee, flying out the door to his storage unit, so I decided to check out his claim that bees were an endangered species.
What I discovered is that several American bee species have been classified as endangered. Scientists know that bees are dying from a variety of factors – pesticides, drought, habitat destruction, nutrition deficit, air pollution, global warming and more. So, why do we need bees?
Here are some reasons…

More than $15 billion a year in U.S. crops are pollinated by bees, including apples, berries, cantaloupes, cucumbers, alfalfa, and almonds.

U.S. honey bees also produce about $150 million in honey annually. But fewer bees means the economy takes a hit.

The global economic cost of bee decline, including lower crop yields and increased production costs, has been estimated at as high as $5.7 billion per year.

Keeping bee populations safe is critical for keeping American tables stocked with high-quality produce and our agriculture sector running smoothly.
As you can see, humans are dependent on honey bees for a large portion of their dietary needs. So just remember these facts as you enjoy your summer barbecue and watch out for Mr Bee circling your soft drink. Be careful not to swat him too hard – you could be committing a federal crime by swatting an endangered species!