Spring Has Sprung!
It's mid April here at The Storage Inn, and the weather in Egg Harbor Township New Jersey, is finally starting to live up to its Spring billing! The temps are creeping into the mid 70's – The windows in the Storage Rental Office/ Packing Store are open, and I even noticed one of our storage space customers, Mr. Pemberton, wearing shorts and flip-flops! " Enjoying the weather?" I shouted. Mr. Pemberton replied by yelling back "Spring has sprung!" Yep – Everyone loves Spring!
I've heard the expression "Spring has sprung" many times , but it made me wonder if there are other sayings, or famous quotes about the Spring season? I did some investigating and found quite a few that I had never seen or heard before.
"When spring came, even the false spring, there were no problems except where to be happiest.."
–Ernest Hemingway
"It is spring fever.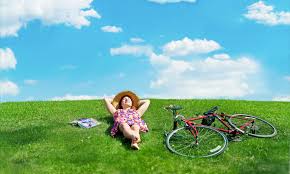 That is what the name of it is. And when you've got it, you want–oh, you don't know quite what it is you do want, but it just fairly makes your heart ache, you want it so!"
–Mark Twain
"Always it's spring and everyone's in love and flowers pick themselves."
–E.E. Cummings
"Spring drew on…and a greenness grew over those brown beds, which, freshening daily, suggested the thought that hope traversed them at night and left each morning brighter traces of her steps."
–Charlotte Brontë
"Spring's greatest joy beyond a doubt is when it brings the children out."
– Edgar Guest
"The promise of spring's
arrival is enough to get anyone through the bitter winter."
– Jen Selinsky
"Spring is the time of plans and projects."
– Leo Tolstoy
"Some old-fashioned things like fresh air and sunshine are hard to beat."
– Laura Ingalls Wilder
"Despite the forecast, live like it's spring."
– Lilly Pulitzer
"Springtime is the land awakening. The March winds are the morning yawn."
– Lewis Grizzard
"A kind word is like a spring day."
– Russian Proverb
"In the spring, at the end of the day, you should smell like dirt."
– Margaret Atwood
"No matter how chaotic it is, wildflowers will still spring up in the middle of nowhere."
– Sheryl Crow
"Spring is nature's way of saying, 'Let's party."
– Robin Williams
"An optimist is the human personification of spring."
– Susan J. Bissonette
So, there you go – some great thoughts on Spring from some famous and even historical figures, courtesy of The Storage Inn. – Happy Spring!