The holiday season is in full swing here at The Storage Inn in Egg Harbor Township New Jersey! Our storage rental customers are busy buying packing and shipping supplies, and retrieving the gifts they stowed away in their storage units.
Like many retail locations at this time of year, our storage rental office is filled with holiday songs wafting through the air. Hearing non-stop Christmas music on the radio made me wonder, where did these songs come from, who wrote them, and how long have they been around?
Here are a few fun facts about some of our holiday favorites… 
While we associate "Jingle Bells" with Christmas, the song was originally written to celebrate Thanksgiving.
The first Christmas song to mention Santa Claus was Benjamin Hanby's "Up On The Housetop." Written in 1864, Hanby was inspired by Clement Moore's 1823 poem "A Visit from Saint Nicholas." (The night before Christmas)
Thurl Ravenscroft, the singer responsible for classic song "You're a Mean One, Mr. Grinch", also voiced Tony the Tiger, the mascot for Kellogg's Frosted Flakes.
"White Christmas" was written by Jewish songwriter Irving Berlin.
Irving Berlin hated Elvis Presley's version of "White Christmas" so much that he tried to prevent radio stations from playing Presley's cover.
The American military played "White Christmas" over Armed Forces Radio as a covert signal instructing soldiers in Vietnam to evacuate Saigon.
Bing Crosby's version of "White Christmas" is the highest-selling single of all time.
In 1906, a violin solo of "O Holy Night" was the second piece of music to be broadcast on radio.
"Hark! The Herald Angels Sing" and "Joy to the World" are two of the oldest English language Christmas hymns, originating in the 1700s.
 "Let It Snow" is considered a Christmas song despite the fact that it never once mentions the holiday and was written by Jewish songwriters Jule Styne and Sammy Cahn.
 "Jingle Bells" was the first song performed in space.
Songwriter Gloria Shayne Baker wrote "Do You Hear What I Hear?" as a plea for peace during the Cuban Missile Crisis in 1962.
Jay Livingston and Ray Evans' holiday classic "Silver Bells" was originally titled "Tinkle Bells." They changed it when Livingston's wife explained that "tinkle" was often a synonym for urination.
Rudolph the Red-Nosed Reindeer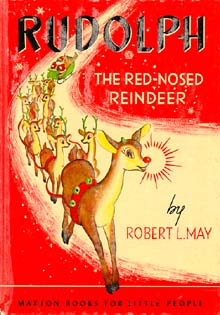 was created by Robert L. May, a staff copywriter for the Montgomery Ward department store as part of a series of holiday-themed coloring books sold by the retail giant.
"We Wish You A Merry Christmas" is one of the oldest secular Christmas songs, originating in 16th century England.
Mel Tormé's "The Christmas Song" (more commonly known as "Chestnuts Roasting on an Open Fire") was written during a summer heatwave in 1944.
Darlene Love sang her holiday hit "Christmas Baby Please Come Home" on David Letterman's late-night show every year for 28 years.
Singer Brenda Lee recorded the original version of "Rockin' Around The Christmas Tree" when she was only 13 years old.
These are just a few of the hundreds and hundreds of holiday tunes that we hear each and every year. It would be impossible to chronicle each and every one here, but I will give you a clue as to my favorite – it involves barking dogs. Merry Christmas everyone!