A Brief History of Black Friday
It's Thanksgiving week here at The Storage Inn in Egg Harbor Township New Jersey, and things are really poppin'. Some folks are placing their warm weather items into their storage units for the winter, while others are taking advantage of our Santa Closets to keep their gifts secret until the big day.
True, Thanksgiving is a beloved American tradition, considering all the food, football, and after dinner naps, but we all know what comes next – Black Friday!
Black Friday is the biggest retail sale day of the year, but where did it actually come from, and what does it mean? Here's a little background on one of the biggest shopping days of the year….
Black Friday and the Stock Market
The first recorded use of the term "Black Friday" was applied not to holiday shopping, but to a financial crisis: specifically, the crash of the U.S. gold market on September 24, 1869. Two notoriously ruthless Wall Street financiers, Jay Gould and Jim Fisk, worked together to buy up as much as they could of the nation's gold, hoping to drive the price sky-high and sell it for astonishing profits. On that Friday in September, the conspiracy finally unraveled, sending the stock market into free-fall and bankrupting everyone from Wall Street barons to farmers.
The Retail Version
The Thanksgiving, shopping-related, Black Friday tradition links it to retailers. After an entire year of operating at a loss ("in the red") stores would supposedly earn a profit ("went into the black") on the day after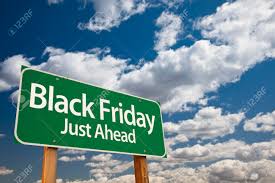 Thanksgiving, because holiday shoppers blew so much money on discounted merchandise. Retail companies used to record losses in red and profits in black when doing their accounting, and this version of Black Friday's origin is the officially sanctioned story behind the tradition.
According to a pre-holiday survey this year by the National Retail Federation, an estimated 135.8 million Americans definitely plan to shop over the Thanksgiving weekend.
So, there you have it – A Brief History of Black Friday. As for me, I will be avoiding the retail centers on Black Friday, and instead celebrating Cyber Monday from the comfort of my home office. Happy Holidays everyone from The Storage Inn!