Time to Tan
It's late May here at The Storage Inn, and things are heating up! With temps in the high 80's, and being located near the beach, we are abuzz with storage customers retrieving their summer storage items.
I have spent the past week watching beach chairs, volleyball nets, and barbecue grills being pulled from storage spaces.
Just today, one of our customers stopped into the storage rental office for a complimentary bottle of spring water, when I noticed a familiar aroma. It took me a few seconds, but then it hit me… suntan lotion!
"You smell like the beach!" I remarked.
"That's where I'm headed!" she replied.
This encounter caused me to wonder. Why don't they make suntan lotion scented candles? And what made humans decide that cooking themselves in the sun was a good thing?
So, I checked into the subject….
Tan skin was not always popular. Ancient Romans even used chalk to whiten their faces! During the Renaissance and Elizabethan era, women would use lead-based white paints to get a pale porcelain complexion, and even drew blue veins on their skin to symbolize their "royal blue blood".
The "Cereal God", John Harvey Kellogg, did more than just come up with Corn Flakes, he created the Incandescent Light Bath or the 1st sun bed. This prototype tanning bed was marketed to cure several skin conditions and was even shipped out to the royal family at Buckingham Palace.
By the turn of the century, artificial sun lamps were used to help "cure" Tuberculosis. "A healthy tan" was born when Dr. August Rollier opened the 1st sun clinic in the Swiss Alps.
Bronzed skin captivated the world in 1923 when fashion icon Coco Chanel returned to Paris with a golden brown glow from a Riviera yacht vacation. Four years later, Vogue featured the first tanned faces in their chic magazine!
One of the first popular sunscreen products was invented for the United States military by Florida airman and pharmacist Benjamin Green in 1944. This came about because of the hazards of sun overexposure to soldiers in the Pacific tropics at the height of World War II.
6. Mid 20th Century marked the beginnings of bronzers. Companies like Max Factor brought beige-to brown tinted powders to the MGM film lot, creating a frenzy on the set of its 1963 classic, Cleopatra.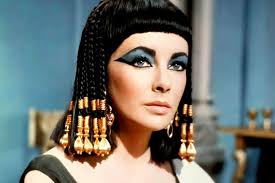 Thanks to a liberal application of bronzing powder, Elizabeth Taylor became the beautifully bronzed Queen of the Nile!
The 60s also gave rise to the first sunless tanner – Coppertone's Quick Tan. DHA, the active ingredient in QT, was used in a drug for Glycogen Storage Disease. It was during lab tests with DHA that it was discovered that it had the ability to transform pale skin tones to a lovely shade of orange/brown in just 3-5 hours.
In the 70's an entire generation literally cooked their bodies in the sun using baby oil, tin foil, even vegetable shortening to achieve the darkest bronze tan possible in the summer months.
 In 1986 the first SPF 15 was introduced, SPF 30 didn't come around until the 90's. Pale was popular once again when skin cancer and premature skin aging were linked to too much sun.
Today, Americans spend upwards of 1.8 billion dollars a year on various suntan related products including sunscreens, oils, and bronzers.
Now you know that sun tanning was not always as popular as it is in the modern era.
We here atThe Storage Inn do our part to protect our staff from the sun with covered golf carts and uniform bucket hats.
As for me, I'm now wearing suntan lotion indoors just for the aroma! Happy tanning everyone!