Women's History Month | Innovators, Artists, Athletes and More!
Well, March came in like a lion here at The Storage Inn in Egg Harbor Township New Jersey, but we know that spring will soon be here, along with Saint Patrick's Day and daylight savings time.  What I didn't know, is that March is also Women's History Month. I found this out when one of our self-storage tenants, Jane, was in our office packing supply store, and saw me using White-Out.
"You know, White-Out was invented by a woman, right?" she said proudly.
I told her that I was not aware of this fact, and asked her how she knew this. Jane told me that she belongs to the local League of Women Voters and that they were celebrating Women's History Month.
One of their activities included making a list of women's achievements throughout history. I told Jane that I would be interested in seeing her list.
"I'll email it to you this afternoon" she replied, as she headed out the door and walked toward her storage rental space.
Sure enough, I received an email from Jane that afternoon.
It included the likes of Cleopatra, Rosa Parks, Mother Theresa, and Amelia Earhart, but it also included some other very interesting tidbits as well…
By the Numbers
Today, 71% of moms with kids under 18 have to go to work. In 1975, fewer than 47% did.
In almost every country in the world, the life expectancy for women is higher than men.
Approximately 14% of active members in the U.S. armed forces
today are women. In 1950, women comprised less than 2% of the U.S. military.
Over 60 percent of college degrees awarded in the U.S. every year are earned by women.
The two highest IQs ever recorded, through standardized testing, both belong to women.
More American women work in the education, health services, and social assistance industries than any other. These three industries employ nearly one-third of all female workers.
The Sporting Life
No women or girls were allowed at the first Olympics, but the Games of Hera, featuring foot-races for women, were held every four years.
At the first Winter Olympic Games in 1924, the only event open to women was figure skating. Women were not allowed to compete in track and field events at the Olympics until 1928.
Roberta Gibb was the first woman to run and finish the
Boston Marathon in 1966. Of course, she didn't get official credit for it, as women were not allowed to enter the race until 1972!
Virne "Jackie" Mitchell, a pitcher, was the first woman in professional baseball. During an exhibition game, she struck out both Babe Ruth and Lou Gehrig.
Mary, Queen of Scots is reported to be the first woman ever to play golf.
Famous Firsts
The first country to grant women the right to vote in the modern era was New Zealand in 1893.
The first woman to rule a country as an elected leader in the modern era was Sirimavo Bandaranaike of Sri Lanka, who was elected as prime minister of the island nation in 1960.
In 1756 Lydia Chapin Taft became the first woman to legally vote with the consent of the electorate.
Taft was allowed to vote because her husband had passed away right before a major town vote. She was allowed to vote in his place.
The first woman to run for U.S. president was Victoria Woodhull in 1872
The first female governor of a U.S. state was Wyoming governor Nellie Tayloe Ross, elected in 1924.
The first female member of a president's cabinet was Frances Perkins, Secretary of Labor under FDR.
The first woman elected to serve in Congress was Jeannette Rankin, a Republican from Montana. She was elected in both 1916 and 1940.
The first person to go over Niagara Falls in a wooden barrel was Annie Edson Taylor, a forty-three-year-old schoolteacher from Michigan plunged over the falls and survived with only a small gash on her head.

The Arts
The world's first novel, The Tale of Genji, was published in Japan around A.D. 1000 by female author Murasaki Shikibu.
In 1921, American novelist Edith Wharton was the first woman to receive a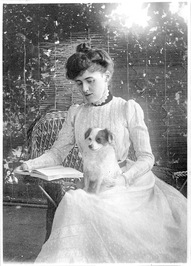 Pulitzer Prize for her novel, The Age of Innocence, a story set in upper-class New York during the 1870's.
Women often wrote under pen names like Jane Austen, the Bronte Sisters, Mary Ann Evans (perhaps better known by her pen name George Eliot), and Louisa May Alcott.
In the early years of the blues, from 1910 to 1925, the vast majority of singers were women.

She Did What?
Marie Curie is the only woman to ever win two Nobel Prizes. Her first award was for physics for her work on spontaneous radiation with her husband, with her second being in Chemistry for her studies of radioactivity.
Hatshepsut was the one and only female pharaohs in recorded history. While accounts seem to paint her reign as a favorable one, her images have been defaced on temples and inscriptions as though they meant to wipe her existence from history.
The earliest recorded female physician was Merit Ptah, a doctor in ancient Egypt who lived around 2700 B.C.

Upon her husband's death, Cherokee leader Nancy Ward took his place in a 1775 battle against the Creeks, and led the Cherokee to victory.
African-American performer Josephine Baker, while working in France
during WWII as a singer, dancer and actress, smuggled messages to French soldiers by hiding them inside her dress, or concealed with invisible ink on her sheet music. She was also the first African American female to star in a major motion picture, perform in a concert hall and played a big role in the Civil Rights Movement.
40's movie actress, Hedy Lamarr wasn't just a pretty face, she also developed a radio-controlled torpedo device which used "frequency hopping" to prevent the signals from the torpedoes being jammed. While the technology wasn't adopted for WWII, it was used in subsequent conflicts.
In 1903, Mary Anderson was granted a patent for the windshield wiper. She isn't alone in her inventiveness. Women have also invented such things as industrial lathes, white out, bras, non-reflective glass, the dishwasher, disposable diapers, petroleum refining methods and much, much more.
Okay, so now we are fully prepared to discuss Women's History Month, should the subject arise. Thank you, Jane, for your email, I learned a lot! Now it's time to lock up the storage unit rental office for the night and head home to dazzle my wife with my new found expertise, but first I'll need to stop at Staples – I am almost out of White-Out!