For the Love of Doughnuts!
It's mid-October here at The Storage Inn self storage in Egg Harbor Township New Jersey, and the place is abuzz with activity. Folks are scurrying about the parking lot, in and out of their rental units and our office, but mostly they're excited to get their free donuts! That's right – its Customer Appreciation Day, and that means free coffee and donuts for our great customers! We offer many perks to our customers here at The Storage Inn, including free use of a moving truck, free WiFi, fax, and copy service, but our customers simply love their monthly free coffee and donuts! All of this activity made me wonder, where did donuts come from, and why do Americans love them so much? So I put on my detective hat, and did some research…
A Brief History
The "doughnut" came to Manhattan under the Dutch name olykoeks, or "oily cakes" . In mid-19th century New England, a ship captain's mother named Elizabeth Gregory made her son fried dough with nuts in the middle (dough/nuts) to take on his long journeys. Her son lay claim to putting the hole in the middle by eating the nuts out of the center, possibly to skewer it onto the ship's wheel as he was steering. Others claim the hole was made to get rid of the soggy, undercooked center.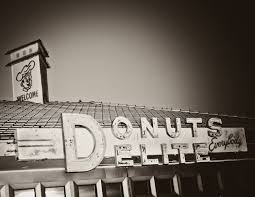 Donut Trivia
Doughnuts vs. Donuts? "Doughnut" is actually proper, but "donut" is acceptable.If you look in older dictionaries, you'll only find "doughnut." However, the Merriam-Webster dictionary now lists "donut" as a variant of "doughnut."

– January 12th is National Glazed Doughnut Day.
– The first Friday in June and November 5th are National Doughnut Day.
– June 8th is National Jelly Filled Doughnut Day.
– September 14th is National Creme-Filled Doughnut Day.
– National Doughnut Day was officially established in 1938 by the Chicago Salvation Army to raise much-needed funds during the Great Depression.
– In the U.S. alone, more than 10 billion doughnuts are made every year.
– The largest doughnut ever made was an American-style jelly donut weighing 1.7 tons, which was 16 feet in diameter and 16 inches high in the center.
– Per capita, Canada has more doughnut shops than any other country.
– Adolph Levitt invented the first doughnut machine in 1920.
– The US doughnut industry is worth 3.6 billion dollars.
– The Guinness World record for doughnut eating is held by John Haight, who consumed 29 donuts in just over 6 minutes.
So there you have it – A brief history, and some fun facts about America's favorite… donuts!
Well, it's very busy here, and all this talk about donuts reminds me I best do my quality control – freshness check on our free donuts. Just a bite or two should do the trick!