More Small Business' using Self-Storage

When we think of self storage, most people think of long rows of metal doors that hide boxes, bags, and bins of unneeded household items. What we don't think of is innovation and entrepreneurship, yet in growing numbers, that's exactly what you might find.
Self-Storage Benefits for Small Businesses
What attracts small business owners to self-storage spaces? For most it is simply a flexible way to store goods and materials until sold. For many business owners, self storage offers needed space without being tied down, giving them the opportunity to respond quickly to the changing needs of their business'. Storage space can easily be increased as the business grows, eliminating the headaches of being tied down to a retail or warehouse space with expensive multi year leases.
With this lower overhead, the small business owner has more money to invest in his goods and services, and in many cases the cost of  self-storage can even be deducted as a business expense. Most self storage facility today also offer the capacity to accept deliveries for the tenant, eliminating the need for a small business owner to wait around for a shipment to arrive.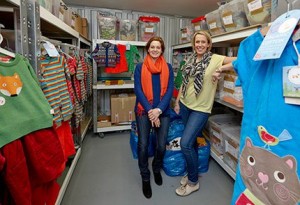 Greg Meckel, Owner of The Storage Inn self-storage in Egg Harbor Township and Ocean City New Jersey offers his thoughts on the subject: "Many of our commercial customers store with us because we accept deliveries on their behalf. We sign for and take the goods into the store while they are out and about running their business, thereby avoiding them wasting their time waiting for deliveries".
The market for small business self-storage use has boomed dramatically over the last two decades. Savvy self-storage business owners have recognized the desire for affordable storage space, and have turned their attention to this lucrative pool of potential customers. Self Storage experts estimate that 30 – 40% of rented units are now for business purposes. Could a self-storage unit be the answer to your small business needs?

By Jerry Brown
3/3/16