Santa's Little Secret
Well, here it is December, and the holiday season is upon us at The Storage Inn in Egg Harbor Township New Jersey. One of our recent storage customers, Mr. Robertson, came in today for a van rental. " You just moved into your storage space last month –  you're not leaving us already, are you?" I asked. " No, just doing some Christmas shopping", he replied.  It turns out that Mr. Robertson  has three sons, ages 13 through 18, and he was on his way to shop for a bicycle, a surfboard, and a big screen TV!  "Pretty hard to hide gifts like that around the house" he said. "I would ask a friend to hide them for me, but the only people that I know that would have space, and don't have kids in the home, are my parents, and they live in the next state."
So we completed the van rental, and off went Mr. Robertson. What a great idea, I thought to myself. What better place to hide gifts, then under lock and key, in a totally secure, weatherproof storage space, that only you have the passcode to?  "That's one smart Santa" I thought to myself.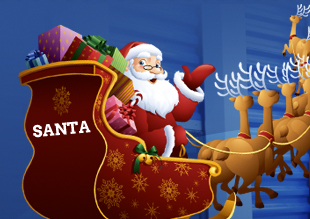 Mr. Robertson returned late that afternoon, and stopped in the office. " How did you make out?" I asked.  "Great!" he replied. "I even found some really good sales on TVs and bicycles – My wife will be so happy". So after purchasing some boxes, tape, and bubble wrap for the additional gifts that he had bought, Mr. Robertson went back to his self storage unit to unload.
So if you're a secret Santa in need of a great place  to hide your holiday gifts from prying eyes, stop into your local self-storage facility, The Storage Inn for a convenient solution. No matter what the size, or how many gifts you have to hide, I'm sure we can find the perfect storage space for you. Well, I've got to go now – just heard about a place that's having a great sale on big screen TVs! Happy holidays!