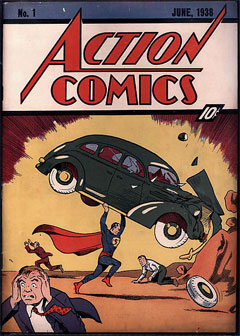 On January 21, 2000, Hollywood actor Nicholas Cage called the Los Angeles Police Department to report an extremely rare comic book had been stolen from his home! For over 10 years Action Comics No. 1, which showcased the very first appearance of Superman, went missing.
Then, in April of 2011, a man bought the contents of an abandoned Storage Locker in San Fernando Valley, California during a Storage Unit Auction, and lo and behold, the rare comic book was no longer lost! After reaching a settlement with the luckily finder and being reunited with his long lost treasure, Cage decided to sell the comic book in an online auction and it fetched a record $2,161,000!
Storage auctions have seen an ever increasing rise in popularity over the past decade largely due to the advent of television reality shows devoted to the subject. And here at the Storage Inn we also have an annual storage auction where local folks bid on the contents of abandoned units.
Now we can probably be pretty certain to say it would be quite rare that one of our winning bidders would ever find a million dollar treasure belonging to a Hollywood celebrity! but then again, ya never know! And that's the fun of storage auctions!
If you'd like to be placed on our notice of upcoming auctions send us an email or give us a call.