It's mid-May here at The Storage Inn in Egg Harbor Township New Jersey, and we are starting to get some warm, almost summer-like days. This time of year the air is filled with the sounds of nature… and motorcycles!
Yes, our tenants are retrieving their two-wheeled toys from their storage units and getting out there to enjoy the open road. I was reminded by one of our self storage customers that May is National Motorcycle Safety Awareness Month.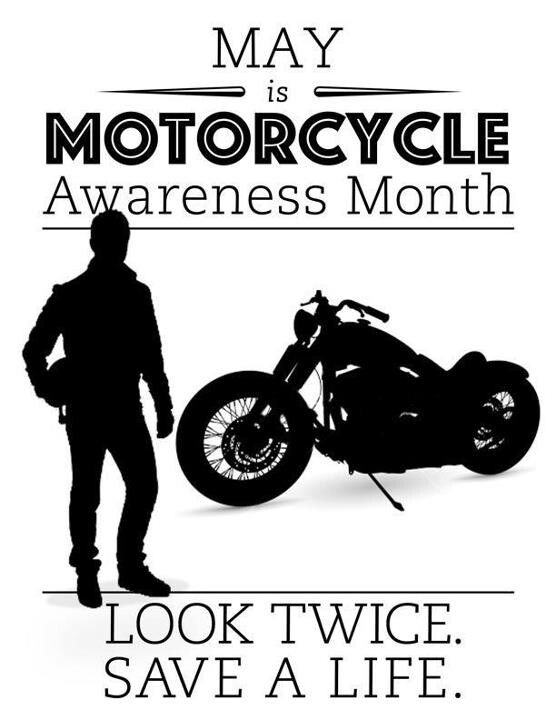 Motorcycle Awareness Month is aimed at increasing awareness among drivers of all types of vehicles to drive responsibly and take heed of motorcycles sharing the roadway. Warmer weather brings out motorcycle lovers in droves! City streets, back roads, and highways are buzzing with motorcycling enthusiasts. This time of year demands more attention from motorcyclists and car drivers alike.
All Drivers Have Responsibility to Keep Motorcyclists Safe
Although motorcycles account for only 3% of all vehicles in the USA, they hold the same rights on the road as any other motorist. In many states, there are strong initiatives to educate motorcycle drivers and riders to take safety measures to avoid dangerous traffic situations and accidents.
Unfortunately, the same amount of emphasis regarding motorcycle safety is not taken with drivers of other vehicle types. It may seem unnecessary to do, but with motorcyclists being at a higher risk of injury and fatality in the event of a crash, it is an important matter to bring to the forefront.
A common prejudice among American drivers is the idea that motorcyclists ride at their own risk.  The risks associated with motorcycling, while true, do not remove the responsibility of passenger car drivers to practice safe driving habits like using turn signals and avoiding distracted driving.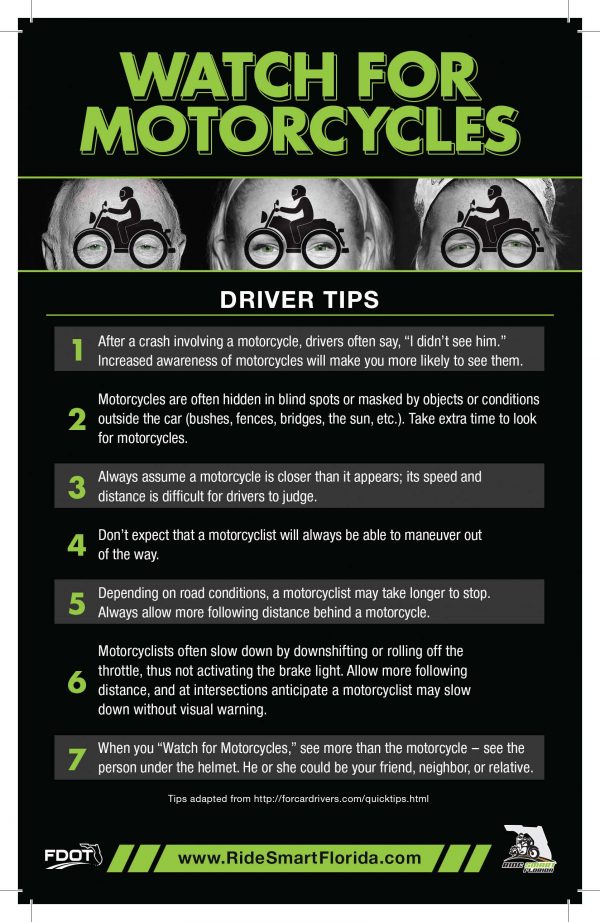 Here are some great driving  awareness reminders:
Listen! Those loud pipes on motorcycles are not there just to be cool – they are also to alert other drivers that there is a motorcycle nearby.
Give full lane space to motorcycles, same as a full size car.
Check blind spots, look twice and signal when making turns, merging with traffic, and changing lanes.
When behind a motorcycle, leave extra space to allow for sudden breaking.
For the safety of everyone on the road, avoid distracted, drunk, and drowsy driving.
Motorcyclist – Take Charge of Your Safety on the Road
While most states require a test to receive a motorcycle license, a motorcycle safety course is also highly recommended. These courses can be taken through the state and are available at most motorcycle dealerships.
Are some tips for motorcyclists to help enjoy a safe ride:
Always wear a DOT-compliant helmet and use bright color and fluorescent gear to make yourself more visible – white helmets can lower risk by 24%.
Drive with your headlights turned on even during the day. Visibility to other drivers is key
Drive in the middle of the lane to become more visible to the traffic as opposed to straddling the lane divider lines.
Use caution while approaching an intersection, over-taking, or changing lanes.
Avoid lane splitting or driving aggressively, especially in heavier traffic.
Take a motorcycle safety and driving course to improve your riding skills
Use your hand and turn signal to inform others that you are taking a turn or changing lane.
For the safety of everyone on the road, avoid distracted, drunk, and drowsy driving.
Safety gear is an important part of rider's safety.The leather worn by motorcyclist, while it may look cool, is really a second skin to protect the driver. Motorcyclists should enjoy the ride, but be prepared for the worst
Always wear a helmet – the leading cause death in motorcycle fatalities is head trauma 
Wear leather gloves – hands can sustain a lot of trauma during a motorcycle crash
Wear boots – Protect your feet and ankles from the road as well as hot engine parts
Leather jackets not only look cool, but are a rider's "Second Skin" and can prevent a lot of damage in the case of an accident.
The type of pants worn are just as important as the jacket. Wear something that will protect your legs against "Road Rash ".
Motorcycle safety is the responsibility of everyone on the road; car and truck drivers, motorcyclists, and pedestrians.
Awareness  from both the drivers and riders is required to make our roads safe for motorcycles, not only during Motorcycle Safety Awareness Month, but all year round. The most common reason given by automobile drivers who are involved in an accident with the motorcycle is " I didn't see him". Listen, and look twice – it could save someone's life!
Whether you are on two wheels, or four, the staff here at The Storage Inn wishes you a great warm-weather season, and Happy Motoring!