The Real Lone Ranger?
Here at The Storage Inn in Egg Harbor Township New Jersey, most of our storage units are filled with things like beds, refrigerators, boxes, and totes, but every once in awhile we hear about something very interesting being found inside one of our storage spaces. This past weekend the family of one of our longtime self storage customers began going through the items in a unit that belonged to their grandfather. "Grandad" had passed away some time ago, and they were just getting around to sorting through the contents. About midway through the day, I stopped by the storage unit to see how they were making out. I spoke to the man's granddaughter, Peggy, who showed me a large envelope that appeared to be quite old.  Written on the outside of the envelope were the words " The Real Lone Ranger".  Inside was a picture of a man, and a document signed by someone named Bass Reeves. They both appeared to be from the Civil War era, but neither of us knew who Bass Reeves was, so we did what any red-blooded American would do, and asked Google!
Here is what we discovered….
Contrary to what classic westerns might have us believe, one in four American cowboys was actually African-American. It turns out that the true inspiration behind The Lone Ranger (and possibly Django from Django Unchained) may have been real life US Deputy Marshal Bass Reeves, an African-American who fled the Civil War, befriended the Seminole and Creek Indians, and eventually became one of the greatest lawmen of the Wild West.
Bass Reeves was born a slave in 1838. When the Civil War broke out, Reeves went into battle with his master and fought for the Confederacy. It was during the Civil War that Reeves made his great escape from slavery.
Reeves took refuge with the Creek and Seminole Indians. He learned their languages and customs, and sharpened his skills as an ambidextrous marksman. During the chaos of the Civil War, Indian Territory became the hiding grounds for outlaws. In 1875, U.S. Marshal James F. Fagan was ordered to lead 200 deputies in the pursuit of these outlaws. The stories of Reeves' familiarity with the land and his own fugitive past got around to Fagan, and Reeves was soon hired on as a U.S. Deputy Marshal. Reeves, along with the other deputies, was ordered to bring the outlaws back  — dead or alive.
Reeves took his job as a marshal very seriously. Six feet, two inches tall, the slender Reeves rode a large white stallion as he patrolled all 75,000 square miles of Indian Territory. The rough and tough lawman, with his intimidating black hat, two colt .45 Peacemakers strapped at his sides, slick suits, and polished shoes, brought over 3,000 felons to justice – far more than Wyatt Earp or Bill Hickok.
By all accounts, Reeves was also a master of disguise. He would appear to felons as a cowboy, farmer, or even an outlaw (wearing a mask).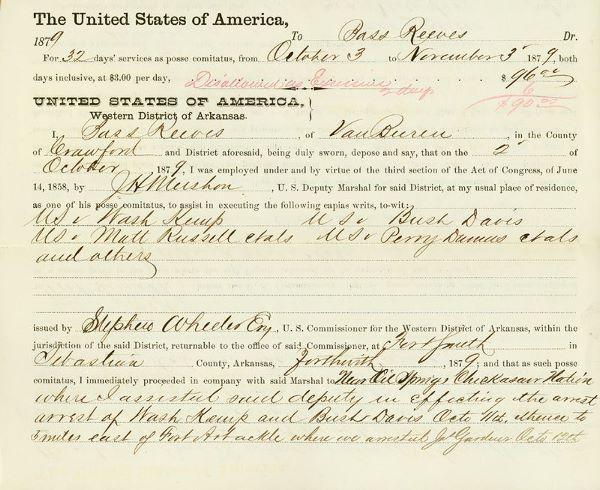 And when he wasn't in disguise, he was easily recognized by the silver dollars he left as his calling card. Reeves was also known to have traveled with a native American who helped him track outlaws.
Despite disguises and calling cards, Reeves treated his position with great respect. Even in the face of morally conflicting circumstances, Reeves held the law above all – He once arrested and jailed his own Son for murder.
In 1907, law enforcement was put in the hands of state agencies and Reeves, now nearly 70, joined the Muskogee Oklahoma Police Department as a patrolman. However, shortly after, on January 12, 1910, Bass Reeves passed away due to Bright's disease.
There you have it – the story of a man who many consider to be the inspiration for the fictional character The Lone Ranger. I don't know if the picture or the document are worth anything, but it sure made for an interesting day at The Storage Inn. Well, I gotta go – it's time for me to ride off into the sunset – now if I only had a horse!