The New Year is a upon us here at The Storage Inn self storage in Egg Harbor Township New Jersey, and our storage rental customers seem to be happy moving on to a new year!
Yesterday, one of our self-storage tenants who happens to be a wine aficionado, was at his rental storage unit, returning his holiday decorations to his storage space. "Hey Bob!" I called out – "What are we drinking for New Year's Eve this year?". "Why champagne, of course!" came his reply. We wished each other good luck in the new year, and went on our way, but this made me think –  what is it about champagne that people love?
Champagne is synonymous with celebration, and nothing says New Year's quite like popping a bottle of bubbly. Throughout the year it might be seen as slightly snobbish, but on December 31 Champagne becomes a holiday revelers' drink of choice in countries all over the world. It seems that simply letting those bubbles fly sets the tone for a festive celebration.
Here are some fun facts about Champagne you likely never knew…
There are about 49 million bubbles in a 7500ml bottle of Champagne – A standard-sized glass emits 30 bubbles every second.
The French consume 162.5 million bottles of Champagne every year, or about 52 percent of the entire world's production of Champagne.
Champagne has 3 times more carbonation than beer – The pressure in a Champagne bottle is about 3 times the amount of pressure of a car tire.
When popped, a Champagne cork can reach a velocity of 24.8 miles per hour – The longest recorded cork flight was 177 feet and 9 inches.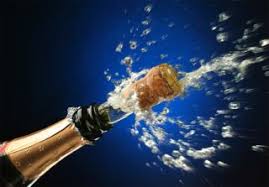 Marilyn Monroe famously took a bath in Champagne. More than 350 bottles were needed to fill up the tub.
About 28,000 bottles of champagne are served at Wimbledon every year.
James Bond has been spotted drinking Champagne more than 35 times in his films. It's the drink he reaches for more than any other… (and we thought he was a Martini man)
If you're drinking good Champagne, you'll be able to see the "collerette" or the bubble trains traveling up the sides of the glass.
The first glass of Champagne has the most bubbles, meaning the first glass will also get you feeling drunk the fastest. Every glass thereafter poured from that bottle will be less potent than the one preceding it.
Winston Churchill was one of the biggest Champagne drinkers on record.  Between 1908 and 1965 he drank an estimated 42,000 bottles. A special one pint bottle was served to him every day at precisely 11 a.m.
In the 19th century, Champagne makers wore metal masks to protect their faces when handling Champagne bottles, which had a tendency to explode. Eventually, stronger glass bottles and metal clasp closures made the stuff more stable.
The most expensive bottle of Champagne was $2.07 million. It was designed by Alexander Amosu and Swarovski, handcrafted from 18-carat solid gold, with a deep-cut 19-carat white diamond at its center. It was mostly the bottle that caused the hefty price tag. Only a few were ever made, making it a rare and valuable collectors edition.
So, there you have it – some Champagne knowledge that you can take with you into the new year, courtesy of The Storage Inn. As for me, I'm considering enjoying some Champagne this New Year's Eve, but first I need to find out – does Champagne pair well with hot wings?
Happy New Year!