'Tis the Season…for Giant Goats and Roller Skates!
Happy Holidays from The Storage Inn in Egg Harbor Township, and Ocean City, New Jersey! Christmas is almost here, and our self storage staff and rental unit customers are all in the Holiday spirit. We are all looking forward to enjoying our traditional holiday activities including big family gatherings, trimming the tree, opening gifts, turkey dinners, and football games.
Recently one of our storage customers who is originally from South America, told me about a Christmas tradition in her country that I could hardly believe. See if you can pick it out of this list of unusual holiday celebrations around the world!

Giant Lantern Festival, Philippines
Looking for some festive sparkle? The Giant Lantern
Festival  in the Philippines is held each year on the Saturday before Christmas Eve in the city of San Fernando. The festival attracts spectators from all over the country and across the globe. Eleven villages take part in trying to build the most elaborate lantern. The original two foot paper lanterns have evolved over the years into twelve foot elaborate kaleidoscope creations.

Caribbean Snow, Cayman Islands
Think it can't snow in the Caribbean? Well it can – sort of… It's common during the Christmas season to see Cayman cottages with their front yards covered with sand carried up from the beach, and lined with sea shells, to simulate snow.

Krampus, Austria
There's an Austrian tradition where St. Nicholas rewards nice little boys and girls, while Krampus, a beast-like demon creature,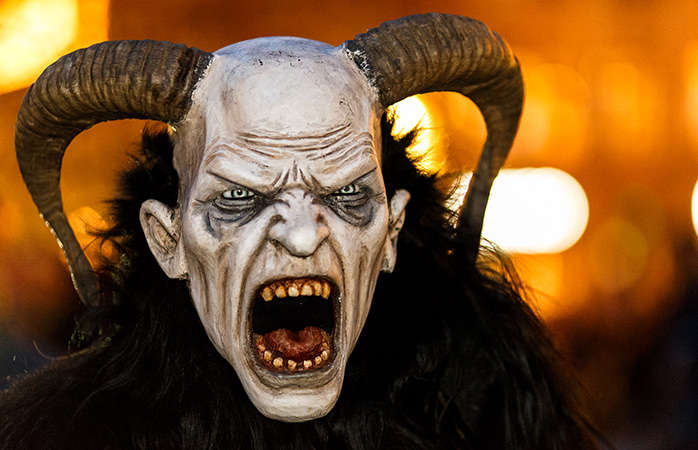 roams city streets frightening kids and punishing the bad ones! He is said to capture the naughtiest children and whisk them away in his sack. In the first week of December, young men dress up as the Krampus (especially on the eve of St. Nicholas Day) frightening children with clattering chains and bells.

Kentucky Fried Christmas Dinner, Japan
Christmas has never been a big deal in Japan and it remains largely a novelty in the country. However, a new, quirky "tradition" has emerged in recent years – a Christmas Day feast of the Colonel's very own Kentucky Fried Chicken. The festive menu is advertised on the KFC Japan website and reservations are recommended.
Gävle Goat, Sweden
Since 1966, a 40 foot tall Yule Goat has been built in the center of Gävle's Castle Square for the Advent, but this Swedish Christmas tradition has unwittingly led to another "tradition" of sorts – people trying to burn it
down. Since 1966 the Goat has been successfully burned down 29 times – the most recent destruction was in 2016.

If you want to see how the Goat fares this year when it goes up on December 1st, you can follow its progress on the Visit Gävle website through a live video stream.
The Yule Lads, Iceland
In the 13 days leading up to Christmas, 13 tricky, troll-like characters come out to play in Iceland. The "Yule Lads" visit children across the country over the 13 nights leading up to Christmas. For each night of Yuletide, children place their best shoes by the window and a different Yule Lad visits leaving gifts for nice girls and boys and rotten potatoes for the naughty ones.

Saint Nicholas' Day, Germany
Nikolaus travels by donkey in the middle of the night on December 6th, and leaves little treats like coins, chocolates, oranges and toys in the shoes of good children all over Germany, but it isn't always fun and games. St. Nick often brings along Knecht Ruprecht (Farmhand Rupert). A devil-like character dressed in dark clothes covered with bells and a dirty beard, Knecht Ruprecht carries a stick or a small whip in hand to punish any children who misbehave.

Brooms in Norway
Perhaps one of the most unorthodox Christmas Eve traditions can be found in Norway, where people hide their brooms. It's a tradition that dates back centuries to when people believed that witches and evil spirits came out on Christmas Eve looking for brooms to ride on. To this day, many people still hide their brooms in the safest place in the house to stop them from being stolen.

Rolling into Christmas,  Caracas, Venezuela
Every Christmas Eve, the city's residents head to church in the early morning, but, for reasons known only to them, they do so on roller skates.
This unique tradition is so popular that roads across the city are closed to cars so that people can skate to church in safety. Afterwards everyone heads home for the less-than-traditional Christmas dinner of 'tamales'!

So, there you have some of the most unusual holiday traditions from around the world. We here at The Storage Inn, wish everyone a very Happy Holiday Season. I've got to go now – I need to oil up my rollerblades and make my Christmas reservations at KFC!