Hi everyone! It is midsummer here at The Storage Inn Self-Storage in Egg Harbor Township New Jersey, and the place is hopping! Our storage rental customers are constantly shuttling in and out of their storage spaces enjoying summer activities.
We have tenants who store boats, motorcycles, and personal watercraft – and boy are they busy this time of year! This week alone, I have seen a dozen jet skis and waverunners coming in and out of the property. I am a motorcycle rider, and I've always thought of a jet ski as a motorcycle on water. Having seen so many recently, it made me wonder who came up with the idea for motorcycling on the water? I did some research and here is what I found…
Early Beginnings
The first personal watercraft, called a waterscooter, was developed in Europe in the 1950s. These crafts were unique with their handlebars and small design that allowed a user to propel themselves around a body of water. However, these early waterscooters did not become very popular and never actually made it to the mass market.
The Motorcycle Connection
Development on the concept of a watercraft continued through the 1960s. Clayton Jacobson II, an American inventor and motorcycle enthusiast, conceived of the notion of a waterborne craft that would provide its rider with a similar feeling to riding a motorcycle. Having suffered an accident where his motorcycle ran into a ditch, Jacobson sought a safer way to get the same fast-paced adrenaline rush that a motorcycle provided without incurring serious injury. He quit his work to develop his idea of a powered water-ski type device, which resulted in an aluminum stand-up prototype. Jacobson developed a dozen prototypes of stand-up models as well as designing sit-down models.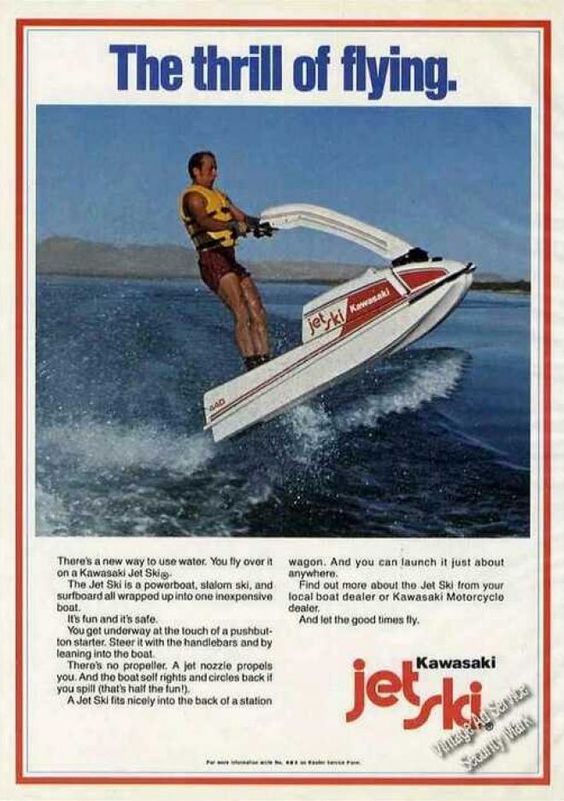 The Snowmobile Inspiration
In 1966, Bombardier Recreational Products, a snowmobile manufacturer, took note of Jacobson's prototype and licensed his patent for a sit-down personal watercraft model that drew inspiration from their Ski-Doo snowmobile. The sit-down PWC, christened "Sea-Doo," was released in 1968 and marketed as a "jet-powered Aqua Scooter," continuing the earlier waterscooter inspiration.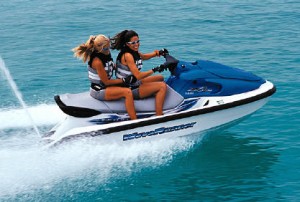 Today's PWC
Today, the market is loaded with personal watercraft brands, but there are three major companies that have dominated. Stand-up PWCs were the original style, but over the course of the 1980s, sit-down styles that accommodated more than one passenger became more popular. These two and three person watercrafts began to take over the market by the 1990s. However, stand-up PWCs continued to be marketed for experienced riders who sought higher speeds and tighter handling on the water. These three companies are the frontrunners of the personal watercraft market:
Kawasaki
The Jet Ski® by Kawasaki has a history stemming back to 1973, when they were released to the U.S. market. Jet Ski® was the first brand of watercraft to become commercially successful. Their stand-up style was favored for its sleekness and speed, and these qualities have only been enhanced in the decades since.
Yamaha
The WaveRunner® by Yamaha was released in the 1980s, resulting in a shift from the stand-up PWC style to the sit-down style that provided room for more than one passenger at a time. WaveRunner® PWCs are known for their unique jet of water that shoots into the air from the rear of the craft.
Bombardier (Sea-Doo) Recreational Products
The new and improved Sea-Doo® re-entered the personal watercraft market in 1988. Featuring a streamlined design with a sit-down style, the Sea-Doo® became a fierce competitor after having made waves as the initial personal watercraft design.
21st Century PWC
Today's personal watercraft have become streamlined, more powerful, quieter and more fuel efficiency. Personal watercraft of all types are extremely popular, fun and thrilling. They allow both families and solo enthusiasts alike to soar across the water with ease.
Now that you know the history of the personal watercraft, you might want to join the party and own one yourself! Hmmmm…I wonder if they'll take a trade-in on a slightly used Harley-Davidson? See you on the water!