Celebrating Moms for over 100 years!!!
Today is Friday, two days before Mother's Day, and the rental office here at The Storage Inn Self Storage in Egg Harbor Township, NJ is a buzz with people shuttling back and forth to and from their storage spaces, preparing for various spring activities and events.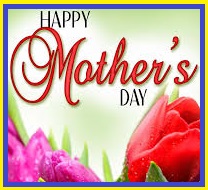 Yesterday as one of our tenants, Mr. Hendry, was returning his van rental, I reminded him, " Don't forget about your wife this Sunday. It's Mother's Day!" " Yeah", he groaned, " Another holiday made up by the greeting card companies." As Mr. Henry shuffled out the door, and headed toward his storage unit, I realized that this was not the first time I had heard that comment made by someone. I wondered if it was true, so I checked into it, and here's what I found.
I was surprised to find that Mother's Day turns 103 this year! The holiday is known mostly as a time for brunches, gifts, cards, and general outpourings of love and appreciation, but the holiday has more somber roots: It was founded for mourning women to remember fallen soldiers and work for peace.
Mother's Day and The Civil War
It all started in the 1850s, when West Virginia women's organizer Ann Reeves Jarvis held Mother's Day work clubs to improve sanitary conditions and try to lower infant mortality by fighting disease and curbing milk contamination during the Civil War. The group also tended to wounded soldiers from both sides of the conflict.
In the postwar years Jarvis and other women organized Mother's Friendship Day picnics and other events as pacifist strategies to unite former foes. Julia Ward Howe – best known as the composer of "The Battle Hymn of the Republic" – issued a widely read "Mother's Day Proclamation" in 1870, calling for women to take an active political role in promoting peace.
The Modern Mother's Day
After Ann's death in 1905, her daughter, Anna took up the cause, and largely through her efforts, Mother's Day came to be observed in a growing number of cities and states around the country, until President Woodrow Wilson officially set aside the second Sunday in May in 1914 for the holiday.
Today, of course, Mother's Day is right up there with Valentine's Day in terms of of consumerism. Americans will spend an average of $162 on mom this year, with total spending expected to reach $19.9 billion. The U.S. National Restaurant Association reports that Mother's Day is the year's most popular holiday for dining out, and the third most popular greeting card holiday behind Christmas and Valentine's Day! About 133 million Mother's Day cards are exchanged annually, according to Hallmark. After Christmas, it's the second most popular holiday for giving gifts.
So, on Sunday, give Mom a nice card and some flowers, take her to a nice brunch, and then take her to see a Civil War reenactment – That is, after all, where this whole thing got started. Happy Mother's Day!