It's October here at The Storage Inn in Egg Harbor Township New Jersey, and our storage customers have been getting ready for Halloween. Just today I saw Jane, one of our long time storage renters, retrieving Halloween decorations and costumes from her extra space storage unit.
Halloween conjures up images of witches, ghosts, and skeletons –  but here in South Jersey, we have a particular affinity for devils. Most people know that our hockey team is called the Jersey Devils, but few know why.
They are named after the legend of the Jersey Devil, and although the hockey team plays in North Jersey, the legend of the Jersey Devil is deeply rooted in the southernmost portion of the state.
The legend of the Jersey Devil revolves around the Leeds family, whose descendants still live in South Jersey. And sightings of the Jersey, or "Leeds" devil, continue to be reported even in 2020!
To understand the legend of the Jersey Devil, you must first understand his birthplace. The remote region extending 1700 square miles across southeastern New Jersey is called the Pine Barrens. The Pine Barrens are are a dense pine forest broken up by the old stagecoach roads and Native American Indian Trails.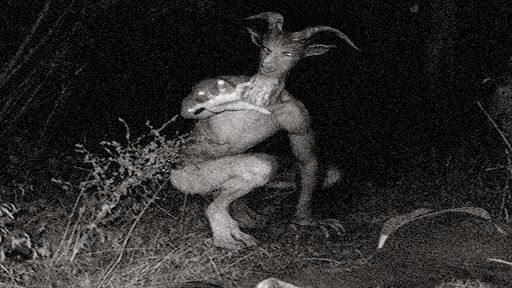 Leeds Point, NJ – On a stormy night in 1735, a Quaker woman gave birth to her thirteenth child during a thunderstorm. The impoverished woman, known as Mother Leeds, already had twelve children and had cursed the news of her being pregnant with her thirteenth. According
to legend, on the night of the ill-fated birth, the room flickered with candlelight as the wind howled through the pines.
Some say the child was born deformed. Some say she cursed the child because of her dire straits. Other accounts say the child was born normal and took on odd characteristics later – characteristics such as an elongated body, winged shoulders, a large horse-like head, cloven feet and a thick tail. According to legend, the child was confined until it made its escape either out through the cellar door or up the chimney. Thus, the Jersey Devil was born.
Over the years, the Jersey Devil has been blamed for everything from crop failure to livestock death, damaging weather, and even reportedly causing local streams to boil. There have been hundreds of reports of sightings and encounters and even rewards offered for its capture. Every once in a while, a photograph turns up of this legendary monster.
If you're ever in Southern New Jersey, you can take the "Tales of the Jersey Devil Walking Tour" through the Pine Barrens, if you dare.  Who knows – you may even have a Jersey Devil encounter of your own (have your camera ready!)
Happy Halloween from the Staff of The Storage Inn