July is National Picnic Month!
Summer is in full swing here at The Storage Inn In Egg Harbor Township New Jersey,  and our storage rental tenants are busy retrieving summer items from their rental spaces. Today I saw one of our long-time tenants pulling a giant picnic basket and blanket out of her storage space.
She informed me that July is National Picnic Month.  "What a great way to take a break from the current world situation!" I replied as we went our separate ways.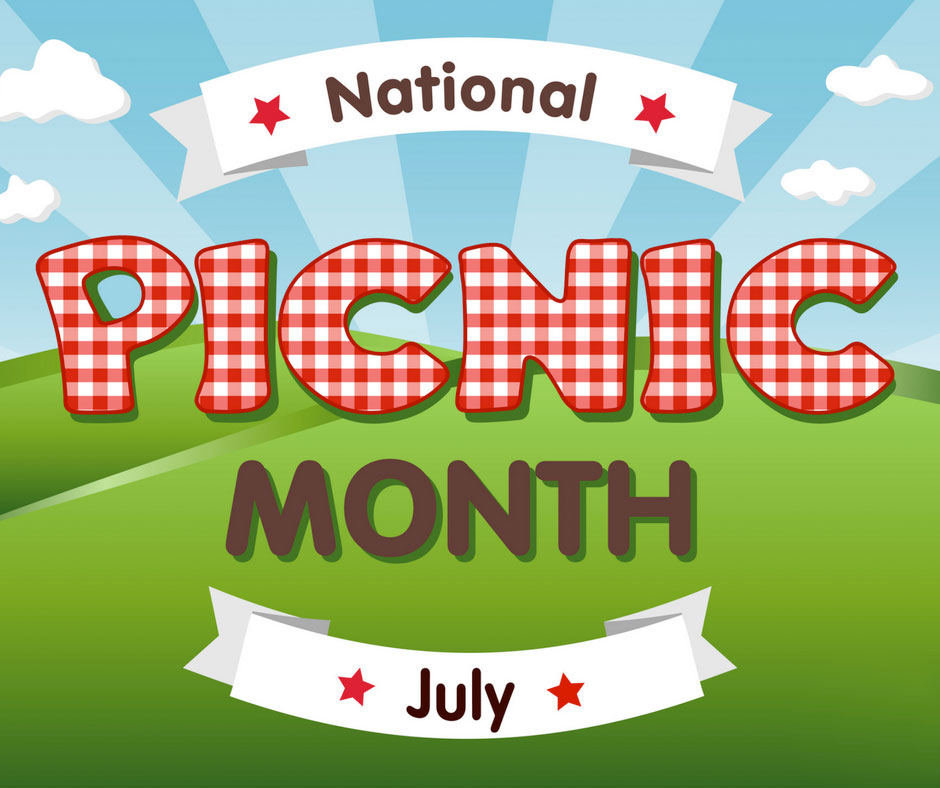 I began to wonder – Where did the idea of the picnic originate? Could it be simply an instinctual holdover from when primitive people lived outdoors? Here are some picnic facts that you may find interesting…
Picnic History
The start of this simple tradition may date back to hunting expeditions of the Middle Ages. Hunters would bring a meal to enjoy in the great outdoors. We can imagine a medieval hunting party taking an afternoon break in the shade of oak trees and enjoying a simple meal before continuing their expedition.
The earliest form of the word 'picnic' didn't appear until 1692 – and was first documented in the French language. Then in 1748, a little more than 50 years later, the term found its way into the English language in a letter from Lord Chesterfield to his son, in reference to an outdoor social get-together.
From then on picnics have been held on blankets, in lawn chairs, aboard boats, and at picnic tables on both sides of the Atlantic. The term is now synonymous with relaxed outdoor dining, time spent with a special someone or a large group of friends, and simple fare like sandwiches or hot items fresh off the park grill.
A checked red-and-white blanket, a wicker basket, and an open patch of grass may be the quintessential concept of the classic picnic. But imagine trying to enjoy an afternoon of delight with these classic components – and three hungry children in tow, plus Grandma, a puppy dog, and a sore back from sitting in an office chair all week. That patch of grass may not be looking so inviting after all.
Upgrading to Tables
Enter a modern convenience often taken for granted: picnic tables. All of the wrinkles in your picnic problem have suddenly been released. Give the kids a spot to sit on the benches along either side of the table – and now Grandma has a spot to rest too. The dog stays out of the way of the tempting treats. And you can spread out the feast, then take a place at the picnic table yourself. With your meal above ground zero, you'll spend less time combating the army of ants, too!
Classic fables evoke images of Robin Hood and his friends dining under trees during 'picnics,' but thousands of park-goers during National Picnic month will skip the storybook setting and opt to enjoy their meal on a picnic table in their favorite park.
Picnic Tips
The beautiful thing about a picnic is its versatility. Make it simple or sophisticated. Spend days planning the perfect party, or minutes packing the essentials for some impromptu fun! But no matter which route you go in your picnic planning, here are some tips for a perfect picnic
Keep an Eye on the Sky –  Summer showers can put a damper on your picnic plans, so check the weather for the day of your picnic. If it looks like a light shower might be rolling through, choose a park with covered picnic tables to serve as a back-up plan in the event of rain. But beware of thunderstorms – and stay safe if lightning has been spotted in the area.
Keep it Clean –  Don't leave your trash behind and ruin the park experience for others. Keep an eye on wrappers, napkins, and paper cups which can easily be blown away by a breeze. Bring a small bag to collect refuse, and make use of trash receptacles in your local park. Remember, litter encourages more litter and a few paper plates on the ground could start a landslide of trash.
Cold is Cool  –  The summer season is a perfect time for picnics, but the warm temperatures mean that you'll want to take extra precautions to keep your food from spoiling. Bring along plenty of ice packs and a cooler to store food and condiments in. If you're making hot food fresh on the park grill, then don't let it linger too long in the hot summer sun after you've cooked it.
Try a New View –  Celebrate National Picnic month by choosing a new spot for your outdoor feast. Whether it's a park in your local community or a destination you'll need to put in a little effort to reach, you'll be rewarded with new views as you enjoy your meal. 
Pack up and picnic on!
So what are you waiting for? The staff here at The Storage Inn wishes you a happy rest of the summer – Whether you choose to dine in the grass, or on a picnic table, pack up and picnic on!